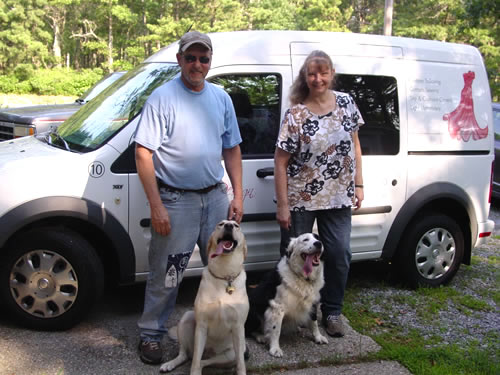 Claudia, Mike, Gracie & Baby Welcome You
Hello from our well equipped studio located in Riverhead, Long Island, New York. Map and Directions We are the talented team of crafts-people (Gracie & Baby are our official greeters) for your fashion, home decor and light upholstery projects.
We Have Expertise In The Following
Tailoring: Simple hems on pants and skirts to wedding dress alterations and men's suits. We can also repair most items.
Custom Sewing: Drapes and other window treatments, pillows, quilts, blankets, and more.
Slip & Cushion Covers: For your chairs, sofa's, bench seats and boats.
Light Upholstery: Due to illness the upholstery section of the business will be closed for the for seeable future. It was supposed to be 8 months of treatment but so far it has been four years with no end in site. For this I apologize to our clients that I didn't inform you sooner.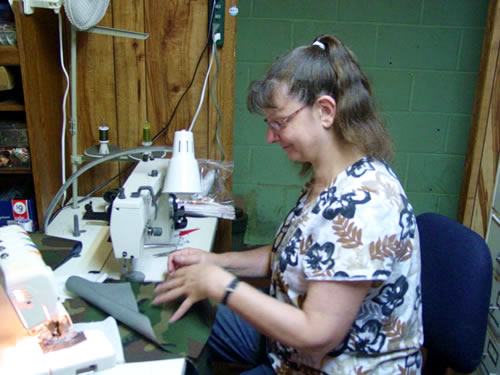 Claudia
I have done it all. Alterations, repairs, mending stuffed animals, custom designing ideas for a fashion forward look, to "doggie" underwear (Really. I'm not kidding!). My motto is, "If I can fit it under the sewing machine foot I will sew it."
I have 40+ years of experience sewing costumes, wedding gowns, men's suits, business and casual attire, prototypes for industries, home decor of any kind and much much more.
Want to learn to sew for yourself?
Please download sewing lesson details here. or
Please contact me about sewing classes at:
Cell Phone: 631.871.5820
E-mail: info@lakeavedesign.com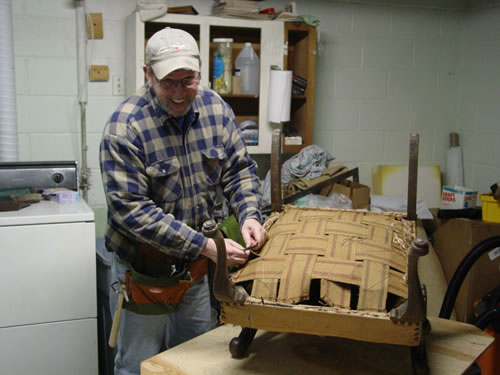 Mike
I have been Claudia's helper for quite a few years now. I have been taught to sew by Claudia which is pretty amazing in its own right. Something about "Old Dogs and New Tricks"...
My little piece of this business are the light upholstery and cushion projects. I really enjoy the light upholstery projects that we get. It must be the taking things apart, putting them back together better than they were before, the power tools and I get to wear a tool belt (with tools in it).
I am pretty much the man behind the curtain so if you happen to reach me I will defer all questions to Claudia.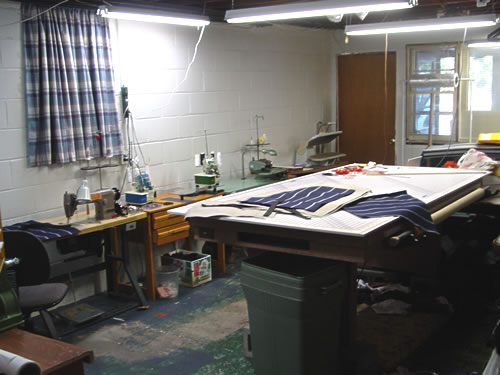 Our Studio
Our studio is well equipped with several sewing machines for different applications. We are able to sew leather and canvas with the heavy duty industrial machines. For the very fine fabrics such as chiffon, laces, organza, tulle and netting we have machines set up just to handle these hard to sew fabrics.
Our light upholstery section is set up to accommodate single stuffed chairs, small love seats, dining room and office chairs. We have also made custom upholstered headboards and restored an old toy box.
Where to find us
We are located approximately 1.5 miles from downtown Riverhead.
We enjoy a location that is in close proximity to both the North and South Forks and points West.
Please feel free to contact us for directions.
We do suggest that you do contact us prior to your visit in order to make sure we are in the shop and not upstairs eating lunch or something silly like that.